On September 20th 2000. there was an idea of creating an international Dx Group. It was named ALFA SIERRA.

On October 15th 2000. there was the first call on 27.555Mhz by Mr. Panos 18AS001.

From that moment Alfa Sierra was on the air!

Now, in 2005 we have more then 300 members and we are still getting bigger and bigger!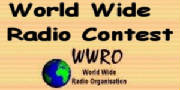 View My Guestbook
Sign My Guestbook